Optimize Pro Tools: Free Massey Plugins
Mar 08, 2010
Any time you purchase a Pro Tools system you get a whole slew of fantastic plugins bundled in. The included DigiRack effects do more than just get the job done; they sound great! And I should know since I use them every day! One set of plugins that isn't bundled however, but should be, are those from former Digidesign employee Steve Massey.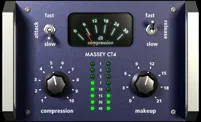 Who Is Steve Massey?
Since leaving Digidesign (and working for Trillium Lane Labs), Massey has taken his Pro Tools coding knowledge to new levels by developing his own set of practical and great sounding effect plugins. But instead of offering "trial" versions of his plugins to get you interested, he gives his plugins away free! That's right, no limited time of use, no noise blasts every few seconds. Just his wonderful plugins, free forever. The catch is, to get access to some additional features like Bypass, Automation, and Session Recall you'll have to pay for the plug, but if that time comes, he's graciously priced his product very fair.
Let's take a quick look at two of the free Massey plugins that I feel truly compliment the DigiRack plugins you already have:
Tape-Head
Massey's Tape-Head is a saturation plugin meant to add harmonic distortion to the signal it's affecting. This is great for drums, bass, or guitars. It adds a "warmth" and fullness to the track while at the same time slightly compressing it. Seeing as how Pro Tools doesn't come with a saturation plugin, Tape-Head brings something unique and helpful to your mixing palette.

L2007 Mastering Limiter
All limiters are not created equal unfortunately. If you find yourself fighting with the Digi limiter trying to push your mix bus a bit hotter without clipping you may benefit from the L2007 from Massey. This plugin couldn't be simpler to operate, and it takes whatever audio you run through it and tames the peaks perfectly at 4 different modes (Loud, Mellow, Smooth, Vibrant) giving you musical limiting and gain boost. Plus it just looks so darn cool!

The Rest of The Gang
At present, Massey offers 7 plugins total including the two mentioned above and an analog EQ, optical compressor, distortion box, tape delay, and de-esser. Unfortunately these plugins are only coded for Pro Tools' RTAS format so you can't use them with anything other than Pro Tools LE, HD, or M-Powered. But if you are a Pro Tools user, you might as well check out Massey's site, and download a few of his effects. They are a great addition to your arsenal and it won't cost you a penny.
Discover The 6 Steps for Creating a
Radio-Ready Song from Scratch"
Enter Your Email Below To Receive The Free 17-page PDF,
"6 Steps To A Radio-Ready Song"
We hate SPAM. We will never sell your information, for any reason.