Producer Profile: Brendan O'Brien
Apr 18, 2011
One of the most successful and influential rock producers and mixers in the 90s (and to this day) is Brendan O'Brien. He's responsible for killer albums (and Grammy awards) from bands like Stone Temple Pilots, Soundgarden, Pearl Jam, Red Hot Chili Peppers, Bruce Springsteen, Rage Against The Machine, Audioslave, and the list goes on and on.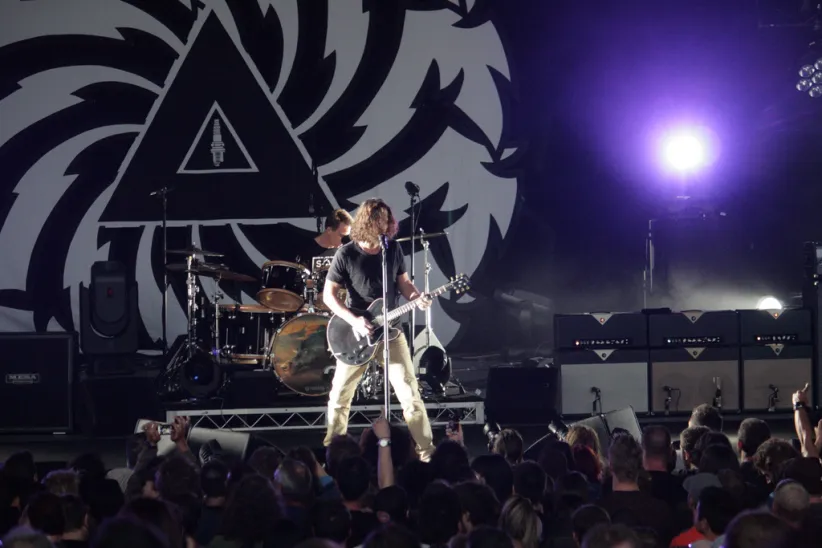 Soundgarden Via baudman Flickr
From Atlanta To LA And Back
Growing up in Atlanta, Georgia, O'Brien was playing in local bands at an early age. He quickly got into engineering and production and worked on projects from the Indigo Girls and other local artists. He really got going with his professional carreer when he engineered the Black Crowes album "Shake Your Money Maker". People took notice of Brendan's skills and he moved his family to LA to dive even deeper into the industry.
Soon he was working for Geffen records and specifically under the direction of legendary producer Rick Rubin. His early work on Stone Temple Pilots' "Core" and Pearl Jam's "Vs" propelled him to legit status. He soon moved back to Atlanta and continued his insanely successful career.
Part Of The Band?
Your role as a producer can vary a lot from band to band, but in a recent interview O'Brien discusses his intimate role with the latest Pearl Jam record…
Every artist is different. Everybody's different. In this particular situation, they worked a lot on their own with the songs and I helped them with the arrangements. There was another writing session—I didn't write the songs, but I was there—in Montana up at Jeff's place where Eddie wasn't around, it was just the band together, and

it was sort of my job to help them pull all the ideas together and get them arranged.

I feel like, on this record, they allowed me to be more of a part of it than maybe in the past.
And if you ever look at the credits on many of those killer rock albums O'Brien has produced or mixed you'll notice his name in their as a musician as well. Brendan is a solid musician and is regularly brought in by bands to lay down additional guitar or bass parts. I think that is one of the best signs of a healthy producer/band relationship, when the band actually wants the producer to "play" with them on a record. And the proof is in the successful pudding.
In this video interview with Anberlin, they guys talk about putting their trust in O'Brien as a producer on their 2010 album. It's a good example of what a producer can do for a band and how he can help bring out the best in them.
O'Brien's Killer Discography
Like I said, Brendan O'Brien is one of my personal favorite producers, mostly because the albums I grew up listening too sound incredible and they were all produced by him! Here's a select list of some of his work either as a producer or mixer:
Discover The 6 Steps for Creating a
Radio-Ready Song from Scratch"
Enter Your Email Below To Receive The Free 17-page PDF,
"6 Steps To A Radio-Ready Song"
We hate SPAM. We will never sell your information, for any reason.