Stop Leaving Stuff For The Mixing Phase
Feb 24, 2014
If you're recording and mixing your own material (or for a client) let me give you a piece of advice: pretend like the mixing phase doesn't exist. Seriously folks, you need to change your entire mindset when in the studio. Push yourself to record your tracks in such a way that they need no mixing at all. That should be your goal every single time you hit the "record" button in your DAW.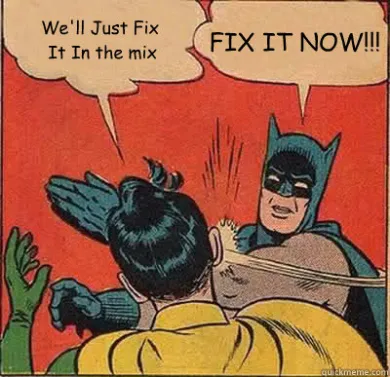 Mixing Shouldn't Be A Crutch
Too many home studio owners fall into the trap of using mixing as a crutch for their bad recordings. I know because I interact with thousands of you each year and also because I have done it myself. We fire open our DAW, arm some tracks, begin recording. If the result is something mediocre we simply shrug our shoulders and leave it for the mix.

Guess what? Mixing was never intended to be a cure-all for bad recordings, like an audio elixir of sorts. But if you record music with a mindset that views mixing as where the magic really happens then you'll never capture really good sounding tracks.
Don't Stop Recording Until It Sounds Great
Before you begin recording you need to think like a producer and know what sounds you want to create in the studio. Once you have that sonic landscape in mind, it's time to make it happen with the tools at your disposal. If upon first listen back your track sounds lackluster, you know one thing and one thing only: you're not done recording.
In fact, you should never sign off on your tracks for mixing until they sound great and you are really pleased. Notice I didn't say they sound perfect. The mixing phase is a helpful and powerful one because it's where you can finally pull all these great sounding tracks together in a compelling way, but the tracks should already sound really, really good at this point. If they don't, you're not ready for mixing.
You're Only Making Mixing Harder
The truth is, if you're recording average sounding tracks and hoping to magically make them sound pro in the mix, you're shooting yourself in the foot. You're backing yourself into a corner. You're only making the mixing process that much harder.
In fact, one reason why so many new home studio owners are churning out bad sounding mixes is because they are starting with poorly recorded tracks. The better you get at recording, the easier mixing will be come. It's a wonderful little miracle of sorts.
So why not take to heart all of this stuff I'm teaching during recording month? Why not slow down your recording sessions and take the time to really get the sounds you hear in your head, before it goes to mixing? You'll only helping yourself.
Discover The 6 Steps for Creating a
Radio-Ready Song from Scratch"
Enter Your Email Below To Receive The Free 17-page PDF,
"6 Steps To A Radio-Ready Song"
We hate SPAM. We will never sell your information, for any reason.