The Complete $300 Starter Studio
Mar 03, 2010
[For more updated $300 studio options check out this post]
My very first post at The Recording Revolution was about having a legitimate home studio for $500. I have recommended this Pro Tools studio configuration to musicians for years now and I am hearing people make killer recordings having only spent that much on gear. It still amazes me what can be done for relatively so little money.
But some of you who are new to this may still be unsure about spending even $500 right now. Or the other reservation maybe committing to a DAW like Pro Tools when you're still considering other options. I have the solution for you. It's what I like to call the Complete $300 Starter Studio.
Everything You Need…For Just $300
If you are trying to get started in home recording, here is my recommendation to you. Find $300 and then follow my advice below. What you'll get is a complete, self-contained, music making machine that can suit you now and even for the future, but is expandable should you need some more features. Let me show you what I mean:
It starts with the M-Audio Fast Track USB audio interface. This little guys is a 2 channel, USB powered box that includes one microphone preamp with 48 volts phantom power, one guitar/bass input, direct zero latency monitoring, headphone and studio monitor outputs. You can pick this puppy up for around $120 easy. This gives you all the connections you need as a singer songwriter or band member to get great audio into your computer.
Pair this interface with the Samson C01 condenser microphone for only $80 and you've got one solid signal chain. This mic (just like all the $100 mics I recommend) will be perfect for vocals, acoustic guitars, guitar amps, drum overheads, etc. Then throw in your basic mic cable ($21), mic stand ($30), pop filter ($30), and studio headphones for recording, editing, and mixing ($17) and you're sitting at just under $300 for all of it.
But what about the recording software you may ask…don't worry, that's the best part!
Try Pro Tools…For FREE
As of recently Avid has released an introductory version of Pro Tools called Pro Tools M-Powered Essential that is bundled free with every M-Audio interface, including the Fast Track I recommended above. What is this "essential" version and why should you care? I thought you'd never ask!
Pro Tools M-Powered Essential is a stripped down, focused version of the industry standard software that many of us (myself included) use on a daily basis. What you get is access to all the recording, editing, and mixing power of Pro Tools, including the great plugins and effects, as well as tons of software loops and virtual instrument samples. This isn't trial software, it's ready for you to make complete recordings out of the box!
Where it is "limited" is in the total number of audio tracks (16), instrument tracks (8), and sends/buses. It's also more streamlined relating to editing modes and tools (but nothing is a real deal breaker to making great music). Think of it this way; with this software you can basically test drive Pro Tools for free. You can see how this great software works and thinks (and sounds!) all without paying a penny. If you don't like it, no sweat. You haven't locked yourself into Pro Tools. Simply demo some other software until you find something you're happy with.
But if you do start love it (as you're making great music with your current version) you can always upgrade to the full version of Pro Tools M-Powered for only $249, putting you at a total studio cost of $549 (just a few bucks more than my original $500 studio suggestion). Not bad at all.
Another "Logical" Option
If you're a Mac user you have even more options. If you find yourself not digging the Pro Tools that comes with your Fast Track, you can just fire up your free version of Garageband that came with your iLife suite. As you saw the other day, it's so easy to create great music in this program.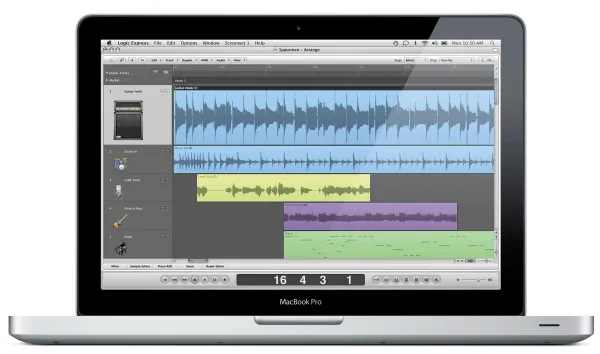 If you find yourself getting comfortable with the way Garageband operates, you can then always upgrade to Logic Express (giving you more tracks, effects, editing capabilities, and control over your songs) for only $199, putting just at the $500 mark total. Not a bad options at all.
You Can't Go Wrong
At only $300 you simply can't go wrong for a complete studio setup that gives you a free version of Pro Tools 8, allowing you to start making great music right out of the box whether mac or PC. It's just too good to pass up. Plus if and when you need to upgrade to a full version of the software, it's right there at a great price for you.
What's that? You don't have $300 to spend? I understand completely. But here's a tip: sell your Xbox 360, Playstation 3, or your Wii (plus all those copies of Madden), buy your mom some flowers, and then actually invest a few bucks in your music. That'll free up some money and wasted time! Capeesh?
Discover The 6 Steps for Creating a
Radio-Ready Song from Scratch"
Enter Your Email Below To Receive The Free 17-page PDF,
"6 Steps To A Radio-Ready Song"
We hate SPAM. We will never sell your information, for any reason.